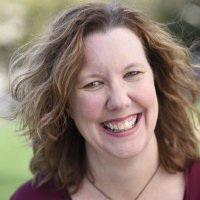 I am a freelance science writer and editor based in Lafayette, Colorado. Since 2003, I've worked in science journalism and communications covering life and biomedical sciences, careers in the sciences, and the culture of scientific research in the field and laboratory. I've written stories about giant camel fossils found in the Arctic, the slippery material properties of hagfish slime, and dysfunctional communities of vaginal microbes. My two favorite areas to write about are life in the laboratory and women's health. My work has appeared in the Los Angeles Times, The Washington Post, Discover, Mosaic, Knowable Magazine, Nature, Science, the Journal of Cell Biology and many other publications.
Trained as a cell biologist before I made the leap from lab bench to laptop, I attended graduate school at the University of California San Diego. In 2002, I graduated from the University of California Santa Cruz Science Communication program and then interned in Nature's Washington DC office. In my freelance career I have also covered scientific and medical conferences and crafted science communications articles for places like the Howard Hughes Medical Institute, Ohio State University's Comprehensive Cancer Center, the National Eye Institute, the National Institute on Drug Abuse, the American Society for Cell Biology and the American Society for Microbiology.
In 2005, I founded an online community of about 30 freelance science writers called SciLance, which co-wrote The Science Writers' Handbook: Everything You Need to Know to Pitch, Publish, and Prosper in the Digital Age (Da Capo, 2013).  I have always been a vocal and strong advocate for freelance writers through my activities with the National Association of Science Writers. I'm a huge fan of both the freedom that comes with the freelance lifestyle and the idea that freelancing should never mean "for free".
Based just north of Denver and east of the foothills of the Rocky Mountains, I enjoy hiking, snowshoeing, and camping with my husband and two children. I am also a Masters swimmer with a 1:30 100-yard pace who hates starting from the blocks.
Select Speaking Engagements
Keynote speaker, "Finding your path in the shifting scientific workforce" Virginia Institute of Marine Science, Gloucester, VA April 2017 
Invited speaker, Iowa State University Postdoctoral Association, Ames, IA February 2016
Invited speaker, "The Postdoc Problem" American Heart Association annual board meeting, Chicago, IL September 2015 
Affiliations
National Association of Science Writers

Board Member and Freelance Committee Co-chair

Authors Coalition of America
Association of Health Care Journalists
Download Kendall's Resume